November 13, 2016
Dear Friends,
Nonviolent direct action is the tool that harnesses the light within us.  When ordinary citizens join together, they are capable of changing the world.  Whether in dark times or times of social progress, if we continue to work for social change, we will win.  Please hold your light and stay strong.  Our work is crucial in the years ahead.
This is our annual report of activities, and an appeal for funds for Ground Zero.
In 2016, Ground Zero chose a new tactic to address the insane costs and inherent risks of nuclear weapons in our world.  Recognizing that most people no longer realize that the Trident base exists in our region, we decided there was no better time for a bus ad campaign than now.
Hans Kristensen, of the Federation of American Scientists (FAS) provided his expertise and support and helped us convince King County Metro to accept our ad.
On June 23rd, the ad, "20 MILES WEST OF SEATTLE IS THE LARGEST CONCENTRATION OF DEPLOYED NUCLEAR WEAPONS IN THE US" with a map of Puget Sound, began running on 14 downtown Seattle buses for eight weeks.  We later extended the ad until October 12th, at a total cost of $12,057.52.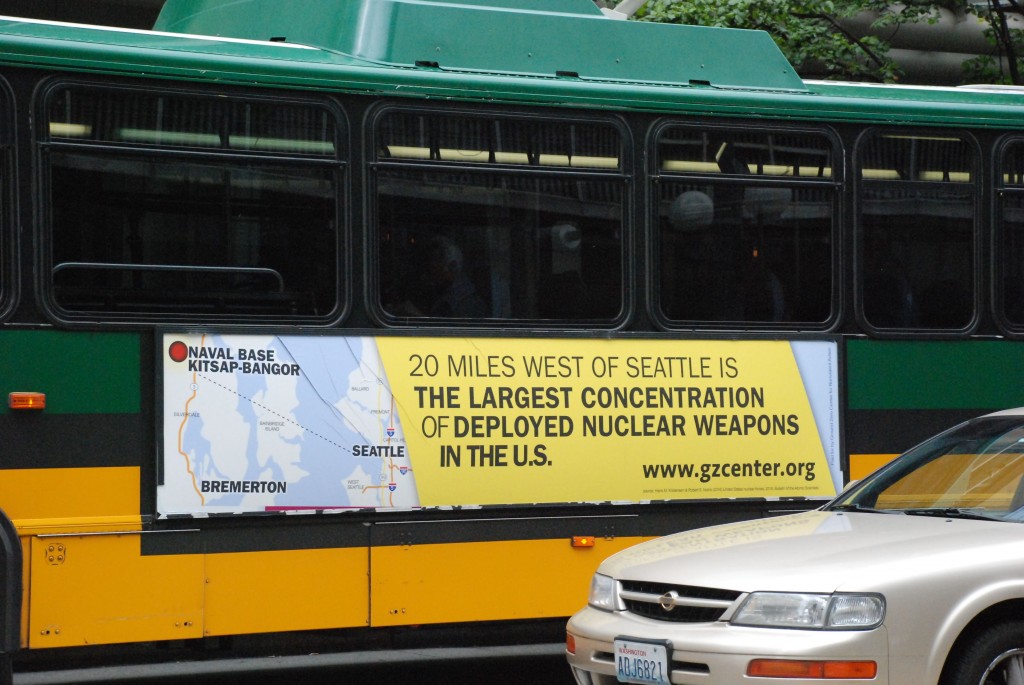 The bus ad produced results in ways we never expected, and in ways we have yet to know.
In working to create a factual basis for the ad, Hans Kristensen discovered the existence of a new $294 million underground nuclear weapons storage complex at the Strategic Weapons Facility Pacific (SWFPAC).  Hans Kristensen wrote an article for the FAS website about Ground Zero's bus ad campaign and the new bomb storage facility at Bangor.  Kristensen's article was featured in numerous online publications such as The Sunflower newsletter of the Nuclear Age Peace Foundation and the Ploughshares' Early Warning newsletter.  Kristensen's work with Ground Zero was featured in a Grantee Spotlight article on the Ploughshares Fund website.
Seattle freelance writer Martha Baskin wrote an article on the bus ad that appeared in various forms in Crosscut, Truthout.org, Counterpunch, and Z Magazine and numerous online media sites.  Martha also produced a radio feature on the bus ad that was broadcast on KBCS, KSER, KAOS and KPTZ in Port Townsend.  Jerry Large, columnist with the Seattle Times, wrote an article with the assistance of Ground Zero member Phil Davis.  And Leonard Eiger and Dave Hall had their op-ed published in the Seattle Times that addressed the bus ad.
Also in 2016, the historic peace vessel, Golden Rule, joined Ground Zero's Peace Fleet in Elliott Bay during the Navy's Seafair Fleet Week and in our first "Boats by Bangor" action in Hood Canal.  On August 9th, the Golden Rule, S/V Silent, and 13 kayaks sailed past the Trident submarine base waterfront.  A National Project of Veterans for Peace, the Golden Rule is the original peace ship that sailed in 1958 to stop nuclear bomb testing in the South Pacific.  Ground Zero worked to coordinate events and support the Golden Rule and Veterans for Peace crewmembers throughout the summer in the Puget Sound region.
September 30, 2016 was the first time a Kitsap County judge dismissed charges against Ground Zero defendants.  Kitsap County Judge Marilyn Paja dismissed charges "in the interest of justice" against Sue Ablao and Mack Johnson, from the August 8th action at the Main Gate at Bangor.  Eight other Ground Zero members are currently serving a one-year probation until April 2017 for federal charges from an August 10, 2015 action.  Three Ground Zero members are currently scheduled for trial in federal court on April 5, 2017 for the May 7, 2016 action.
Ground Zero works to stay an effective and sustainable organization in these efforts.  We are an all-volunteer organization where members are not compensated for time, travel or other personal expenses.  All of our decisions at Ground Zero are made by strict consensus, meaning that one person can block a decision.  When we reach agreement, we move forward together.
In 2016, Ground Zero members spoke against Trident nuclear weapons in courtrooms, classrooms and workshops, public meetings, radio and video interviews, newspapers, and in demonstrations in Seattle and Kitsap County.  We continue with our informative and acclaimed Ground Zero newsletter, Ground Zero website, monthly leafleting at the Trident base, a campaign against the Trident replacement submarines, work to build a Peace Pagoda at Ground Zero, and local community outreach, as well as our growing alliance with other peace and justice communities in the region.
We would be remiss not to mention the loss of Ground Zero members Peggy Vamvas, Bob Beveridge, and others.  Their presence is missed.
To all Ground Zero supporters, we promise to remain true to our Mission Statement, which reads:
Founded in 1977, Ground Zero Center for Nonviolent Action offers the opportunity to explore the meaning and practice of nonviolence from a perspective of deep spiritual reflection, providing a means for witnessing to and resisting all nuclear weapons, especially Trident. We seek to go to the root of violence and injustice in our world and experience the transforming power of love through nonviolent direct action.
Thank you for your past contributions and for keeping us in your thoughts.  We especially appreciate your support at Ground Zero events throughout the year.  Please join us.  
Peace and love,