Celebrate the Nobel Peace Prize with us!
December 10, 2017
Free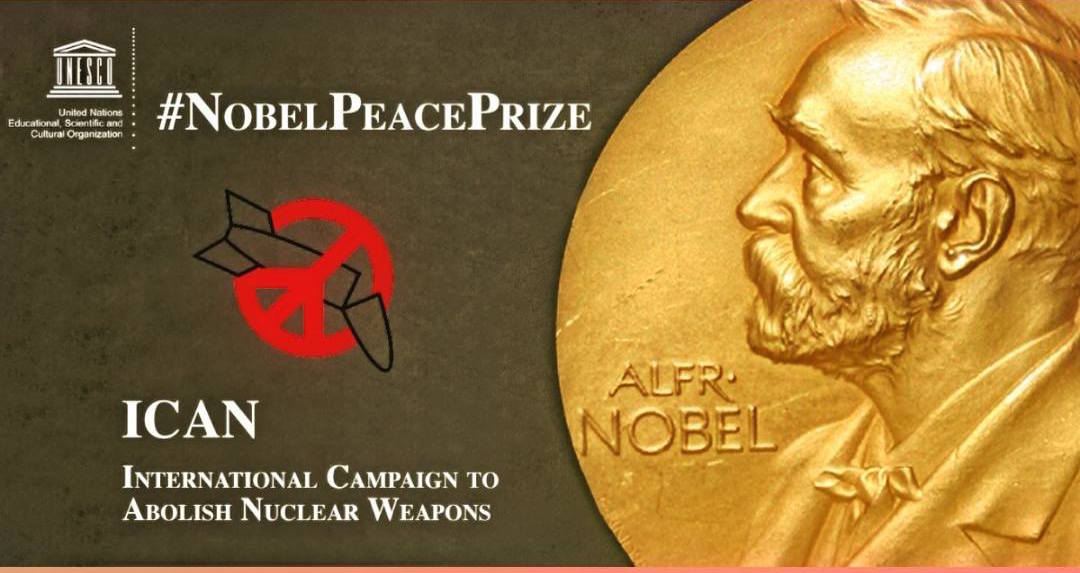 Editor's Note: Ground Zero Center is an organizational affiliate of ICAN, winner of this year's Nobel Peace Prize. Come help us and others around the state celebrate this recognition of the role of civil society in the abolition of nuclear weapons. Read more below:
The International Campaign to Abolish Nuclear Weapons (ICAN) won the 2017 Nobel Peace Prize for its efforts in passing the UN Treaty on the Prohibition of Nuclear Weapons. In the current, hostile political climate (here in the US), we must take time to celebrate our progress toward a nuclear-free world.
ICAN's victory is everyone's victory. So please join us on December 10th, the same day the Nobel Peace Prize is presented in Norway, for one of these SEVEN events around Washington State:
Join the Washington Coalition to Stop the New Nuclear Arms Race at Leif Erikson Lodge, 2245 NW 57th St, Seattle, WA 98107 Sunday, December 10th. Doors at 6pm, Program 6:30-8:30pm   RSVP HERE
We'll have food and drinks, music from the Seattle Peace Chorus, and remarks from local leaders including Bruce Amundson, President of Washington Physicians for Social Responsibility; Michael Ramos, Executive Director of the Church Council of Greater Seattle; and Kim Nesselquist, Consul of Norway.
We hope you mark this occasion by celebrating with us! If you'd like to celebrate, but live outside the Seattle area, please get in touch with Lilly Adams at lilly@wpsr.org to find out about other events happening on Dec 10th around the state, or to learn about how to host a small house party of your own!
***Poulsbo at Ground Zero Center
West Sound for Social Justice, Free Range Films and The Ground Zero Center for Nonviolent Action are partnering to present a community screening of Scarred Lands & Wounded Lives:The Enviornmental Footprint of War, a timely and gripping new documentary by filmmakers Alice & Lincoln Day that examines the environmental footprint of war.
This free community screening will be held on Sunday, December 10 at 3:00 p.m. at the The Ground Zero Center for Nonviolent Action, 16159 Clear Creek Rd NW, Poulsbo, WA 98370.
Seating is limited; please RSVP at wssjinfo@gmail.com.
***Port Angeles
Join the OLYMPIC PENINSULA PROGRESSIVES to learn about the new Treaty on the Prohibition of Nuclear Weapons and take action toward a nuclear weapons-free world. Sunday, December 10, 2017 1:00 PM Port Angeles Library 2210 S. Peabody St. Port Angeles, WA 98362. Two videos will be shown featuring ICAN director Beatrice Finh and Setsuko Thurlow, a survivor of atomic bombing of Hiroshima.
Guest speakers and panelists include representatives from Ground Zero Center for Nonviolent Action, including Tom Rogers, Lisa and Mack Johnson. Music and songs will be led by a local interfaith peace choir.  For more information, contact OlyPenPro@gmail.com
***Olympia 
The Olympia Coalition to Abolish Nuclear Weapons is hosting a celebration at 3pm on Dec 10th, at the Museum Coach House, 211 21st Ave SW. They are also organizing highly visible banner drops at multiple locations leading up to the event. For more information, contact Tim Russell at tim.rainyday@gmail.com
***Bellingham:
Local peace groups are gathering at 12:30pm – 2:30pm on December 10th Stillpoint at Backside, 1625 Huntley Road, Bellingham. Join them to view a video of the Peace Ceremony and take action by contacting your members of Congress. Sponsored by Pax Christi. RSVP Mary Mele at marymele@gmail.com
***Tacoma:
Tacoma Fellowship of Reconciliation is hosting a celebration at 4pm on Dec 10th, at the Friends Meeting-House, 2508 S. 39th Street. They'll have food, drinks, and members of the Tacoma Refugee Choir. For more information, contact Susan Donaldson at wrigdon88@hotmail.com
***Spokane:
Pax Christi Spokane, Veterans for Peace Spokane, and Peace and Justice Action League of Spokane are hosting an event on Dec 10th at 1:30pm, at 25 W Main St, 3rd Floor, Saranac Building. There will be light refreshments, speakers from the community, and an open mic to share experiences working to ban the bomb!
******************
PS – Many members of our state-wide coalition, Washington Coalition Against Nuclear Weapons, have helped spread the world about this achievement by writing opinion pieces in local media across the state! You can read them here: