Celebration of Mira Leslie's Life
May 6, 2017 @ 1:00 pm

-

4:00 pm

Free
Event Navigation
All are welcome to join the celebration of Mira Lelsie's life on Sat May 6, 1-4pm, at the Hillman City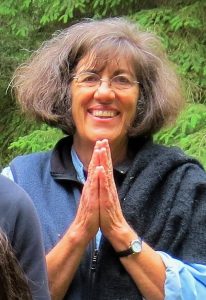 Collaboratory, 5623 Rainier Ave S, Seattle.
Mira wanted to have a party for her friends before she died, but she left us far too soon. Her next best choice was that we would have a celebration after she left us, and that is what we have planned. It will be casual, but filled with love, laughter, music and dancing, as she wished.
RSVP's are not required but will help to give us a head count, so if you plan on coming, you can drop an email to Michael Rosenthal atunclemikeaz@gmail. If your plans change at the last minute, either to make it or not, no problem. As I said, it will be casual.
If anyone would like to make a donation in Mira's memory, the charities she named are: American Friends Service Committee, Doctors Without Borders, Fellowship of Reconciliation, Center for Biological Diversity, Freedom Project-Seattle prison programs, ACLU, Union of Concerned Scientists, Physicians for Social Responsibility, NAACP, Highlander. Joe Zarantonello – Looseleaf Hollow, Bardstown, Kentucky (to be used for Haiti), and International Rescue Committee.
Please Note: Ground Zero Center for Nonviolent Action will also remember Mira with a tree planting at its Saturday, May 13th Mothers Day event.
And please read further for Mira's obituary:
IN LOVING MEMORY OF MIRA LESLIE
Mira Leslie, of Seattle, Washington, died on March 10, 2017 after a brief illness. Born December 8, 1955, she was 61 years old.
Mira was a world traveler, having lived all over the United States, Canada, London, Mexico and India. She was a Public Health Veterinarian, graduating from the Virginia-Maryland College of Veterinary Medicine in 1994. In addition to serving as the Public Health Veterinarian in Arizona and Washington, and working for the Province of British Columbia, Canada, Mira was chairperson of the Rabies Compendium and a long time member of the National Association of Public Health Veterinarians.
Mira was a life-long advocate for social justice and active in the peace movement, Ground Zero Center for Nonviolent Action and the Freedom Project-Seattle prison programs, as well as numerous other organizations. She was inspired to fight social injustice and work for world peace by her late father, Dr. Charles Leslie. Mira will be missed by her mother Zelda, brothers Mario and Sam, Sister-in-Law Linda, nephews Max, Liam, and Tanner, her niece Grace, and family members in Italy. She will also be missed by many loving friends and colleagues.
Contributions in Mira's honor may be made to organizations she supported, including the ACLU, NAACP, Doctors Without Borders, Physicians for Social Responsibility and the Center for Biological Diversity. A Celebration of Life is scheduled for Saturday, May 6 from 1-4 pm at the Hillman City Colloboratory, 5623 Rainier Ave. S, Seattle, WA 98118. She touched many people and leaves behind a legacy to be admired. She made a difference.