The 40th anniversary of the founding of Ground Zero is a good time for activists from all eras and each of GZ's decades to get together to share experiences, review aspirations for GZ, reflect on accomplishments, and have some fun.
Everyone is invited! We expect folks from the Pacific Life Communities, Live Without Trident, Armistice, Agape, peace walkers, fence climbers, tracks vigilers, USS Ohio blockaders, Wednesday overnighters,pagoda builders, leafleters, potluckers, plaintiffs, defendants, lawyers, Bangor workers and fellow travelers. It's a chance to reflect on what drew us to GZ, to catch up with friends, and to create an oral history.

Bring photos, archives and artifacts. We will make time to visit the fence or gate. We all run into friends from time to time who have GZ connections, but don't get the newsletter and haven't been back in years. Please share this invitation with all your Ground Zero associates far and wide. Contact your affinity group, dig out your GZ tee shirts and buttons and plan to show up! The potluck starts at noon, but come early to explore the grounds and stay for dinner and music. Campers are welcome at GZ.
SCHEDULE
12:00 potluck lunch
1:00 panels:
1:00 to 2:30 Conceptualizing BGZ & Founding with first five years
2:45 to 4:15 Coming of the Ohio and Trains
4:30 to 6:00 Limbo: Reimaging, Reinvigorating, Restart; New Buiding to Present; and What Does This All Mean?
6:00 Potluck
7:00 Song
Click here to view, download and print the event flyer.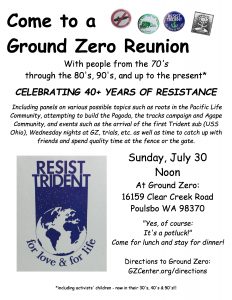 If you are coming from a distance and need a place to stay contact Mona Lee(mona_lee@centurylink.net)
For transportation from the Edmonds/Kingston ferry contact Mary Gleysteen (marygleysteen@gmail.com) by July 23.
If you have ideas for panel discussions or other activities, please contact Sallie Shawl (awestruckbigtime@gmail.com) and be sure to put GZ reunion in the subject field.
See you July 30th!