Honoring MLK's Dream January 14-18, 2016 Investing in Peace and Justice; defeating Racism & Militarism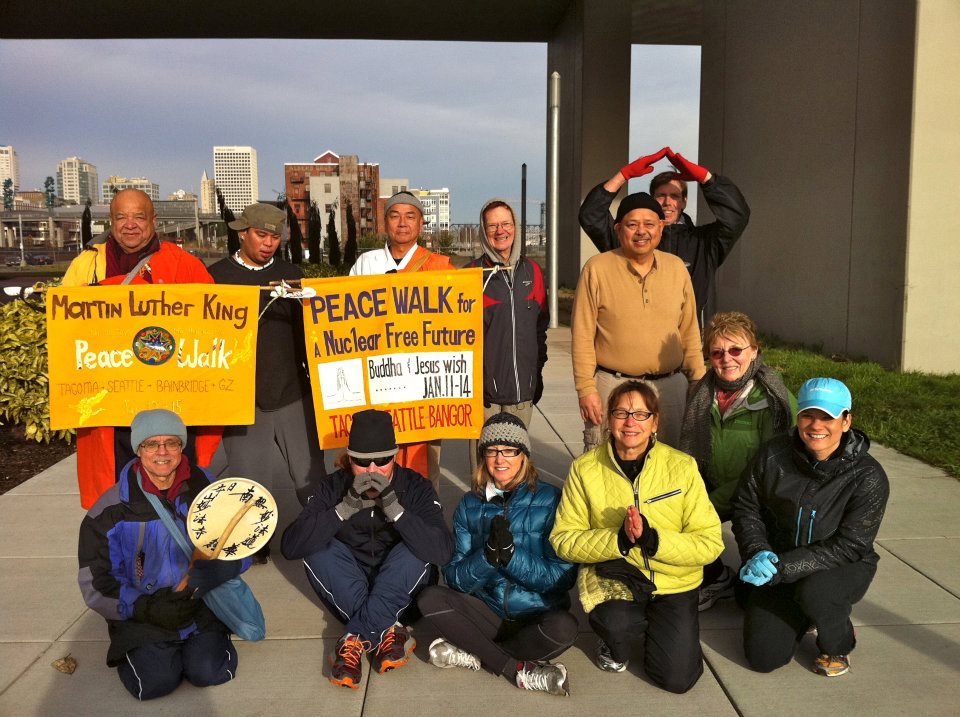 Every step is a prayer for peace. This annual peace walk is an opportunity for all people to walk, live and learn together in a nonviolent, spiritually-motivated action. Peace walkers will average about 13 miles per day. We welcome all who are sincere in walking and communing in harmony and nonviolence. Walkers can join for an hour, a day, or the entire walk. We will spend evenings with communities on the route, singing, conversing, watching documentary films, and relaxing. We appreciate any contributions of food, water or accommodations.
Walkers will gather on the evening of Wednesday January 13 at the Nipponzan Myohoji dojo on Bainbridge Island to meet each other and spend the night. The walk starts on January 14. The route will include Bainbridge Island, Ground Zero, Indian Island, Port Townsend, Port Julia/Sklallam, Kingston, Edmonds and Seattle.
The schedule may change with conditions so please check in with us if you are joining at any point.
Jan. 13 Wed. evening- Gather at Nipponzan Myohoji Dojo, Bainbridge Island
Jan 14 (Thurs) 8:30 am=-Bainbridge Island to Ground Zero ( some driving/ 12-14 miles)
15 Friday 9am- start Indian Island; walk to Port Townsend (12.7mi)- overnight in PT
16 Saturday 8:30 am- (start tbd) To Point Julia and Kingston: overnight in Kingston
17 Sunday- 7:55 am ferry to Edmonds; walk starts 8:30 to LFP or Seattle (overnight in Seattle)
Jan 18 Monday11:30 am -Join Ground Zero and community members for Martin Luther King Jr. Day march through Seattle
For more information contact:
Senji Kanaeda Ph:206-780-6739, 206-724-7632(cell) senji@nipponzan.net
Gilberto Perez Ph: 206-419-7262 gzperez@juno.com
Nipponzan Myohoji Bainbridge Island Dojo
6154 Lynwood Center Rd. NE Bainbridge Island, WA 98110
The Peace Walk occurs just before the 70th anniversary of UN Resolution 1 (1) which calls for 'the elimination from national armaments of atomic weapons and all other major weapons adaptable to mass destruction.' UNFOLD ZERO is promoting the anniversary as a time to act for nuclear abolition. The Nipponzan Myohoji Bainbridge Island Dojo endorses the Joint Statement of Legislators and Religious Leaders for a Nuclear Weapon Free World.
~NA MU MYO HO REN GE KYO~