Dear Friends of a world free of nuclear weapons,
Welcome to the Mad, Mad, Mad world of 2018! A world that could be reduced to cinders in less time than it would take to watch the movie Dr. Strangelove, a film that is ironically, to quote Daniel Ellsberg in his new book, The Doomsday Machine, "essentially, a documentary." The ultimate madness of the past 70-plus years is that those responsible for nuclear war planning knew all along (or should have known) that they were planning for the probable extinction of life on Earth.
Nearly a quarter century since the beginning of the nuclear age, and well past the time of Kings, the world is still at the mercy of the Thermonuclear Monarchs, the anointed ones who have their fingers on what people like to call the "nuclear button." Of course, as Ellsberg explains, it is even worse than that. Not only in the United States, but probably in most other nuclear-armed nations, the authority to use nuclear weapons has been delegated to countless others (besides the President) principally in the military chain of command. The ability to start a nuclear war is (and always has been) much easier than anyone would expect.
The current crisis with North Korea has been compared with and considered (by some) as the closest we have come to nuclear war since the Cuban Missile Crisis of 1962. Whatever the parallels, there is one key difference. We currently have (in the U.S.) a president who appears to have no concept of the potential consequences of his cavalier statements toward North Korea and its leader, Kim Jong-un. Whatever his underlying motives are, his actions speak for themselves, and they threaten not only North Korea, but all of humanity.
Even a limited nuclear war with North Korea would likely result in the deaths of millions on and near the Korean peninsula, and horrific and lasting environmental effects and human suffering lasting many generations. As the drumbeats continue to drone on, there is another way.
This month we honor and celebrate the birth of the prophet and peacemaker Martin Luther King Jr.  Although widely known for his civil rights leadership, after the passage of the Civil Rights Acts in 1964 and 1965 Dr. King began challenging our nation's fundamental priorities. He maintained that the civil rights laws meant nothing without human rights, including economic rights. He spoke out against the huge gaps between rich and poor, and called for "radical changes in the structure of our society" to redistribute wealth and power.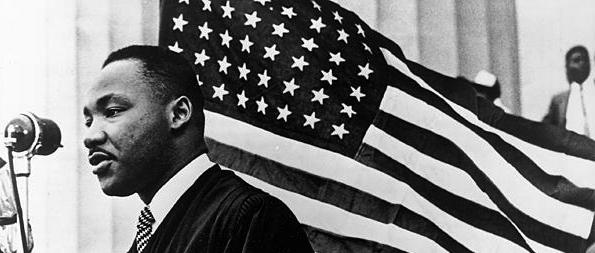 By 1967 Dr. King had become one of the country's most prominent opponents of the Vietnam War as well as a staunch critic of overall United States foreign policy. In his "Beyond Vietnam" speech, Dr. King made a significant leap from fighting for civil rights for African-Americans to morally challenging U.S. dominion over the rest of the world. His was a strong, prophetic voice for peace, and clearly understood the madness of nuclear weapons. As Vincent Intondi, author of African Americans Against the Bomb, stated:
When asked in December 1957 about the use of nuclear weapons, King replied: "I definitely feel that the development and use of nuclear weapons should be banned. It cannot be disputed that a full-scale nuclear war would be utterly catastrophic. Hundreds and millions of people would be killed outright by the blast and heat, and by the ionizing radiation produced at the instant of the explosion . . . Even countries not directly hit by bombs would suffer through global fall-outs. All of this leads me to say that the principal objective of all nations must be the total abolition of war. War must be finally eliminated or the whole of mankind will be plunged into the abyss of annihilation."

King remained committed to the antinuclear cause throughout the Civil Rights Movement. In 1959, five months after being stabbed in Harlem, King addressed the War Resisters League's thirty-sixth annual dinner, where he praised its work and linked the domestic struggle for racial justice with the campaign for global disarmament: "Not only in the South, but throughout the nation and the world, we live in an age of conflicts, an age of biological weapons, chemical warfare, atomic fallout and nuclear bombs . . . Every man, woman, and child lives, not knowing if they shall see tomorrow's sunrise." He asked, "What will be the ultimate value of having established social justice in a context where all people, Negro and White, are merely free to face destruction by strontium 90 or atomic war?"
While many people are concerned about North Korean nuclear weapons, the U.S. and Russia still hold 13,800 of the world's nuclear warheads, while North Korea is estimated to have about 10. Kim Jong-un will not use his nuclear weapons unless his regime is threatened by military action. There is absolutely NO acceptable military option in the standoff with North Korea. Nonviolent conflict resolution (in the form of sustained diplomacy) is the only way to resolve this crisis. Nonviolence is the answer.
It is, perhaps, perfect timing that the 2018 Winter Olympics will be hosted by South Korea, beginning on February 9th. North Korea and South Korea (at the South's invitation) will also engage soon in official talks in what will be the first high-level contact between the two countries in more than two years. And it is quite probable that the North will send athletes to compete in the winter games. It is critical that the U.S. not undermine any of these efforts. It is time for President Trump to cease his violent threats toward North Korea and reduce the risk of nuclear war. Oh, and it would also help if we just called off (rather than postponing till after the Olympics) yet another military drill with South Korea!
Please join us in continuing to push for nonviolent solutions to the crisis with North Korea, a situation that should never have gotten to this (boiling) point. Here are a few current actions we can all take to make our voices heard:
SUPPORT THE OLYMPIC TRUCE:  The United Nations has asked member states to observe an Olympic truce between February 2nd and March 25th. South Korea has also asked the U.S. to delay its war rehearsal flights over South Korea until after the truce. Please sign the petition urging all nations to support the Olympic truce (and to continue it indefinitely thereafter).


Sign the People's Peace Treaty with North Korea: Alarmed by the threat of a nuclear war between the U.S. and North Korea, Peace Action, joined by other U.S. peace groups have come together to send an open message to Washington and Pyongyang that we are strongly opposed to any resumption of the horrific Korean War. What we want is a peace treaty to finally end the lingering Korean War!
Tell Congress: Open Vital Channels to North Korea:   Several unresolved humanitarian issues between the U.S. and North Korea must be addressed urgently – and offer diplomatic avenues for stabilizing relations with Pyongyang. Issues such as repatriating the remains of U.S. servicemen left in North Korea following the Korean War and reuniting divided Korean and Korean American families should be priorities in the U.S. policy toward North Korea.  Contact Congress and urge them to open these channels and to pursue diplomacy, not war, with North Korea.
Beyond the Bomb has written an Open Letter to Congress about how President Trump is moving us closer to nuclear war. I suggest that we all take that letter and visit our members of Congress or their local staffers, demanding that they reign in this loose cannon who occupies The White House. Click this link to find your members of Congress, and find the nearest office where you can meet with staffers to present your case.
Tell Twitter: Crack down on @RealDonaldTrump: Twitter has recently cracked down on some groups using its platform to "promote violence against civilians to further their causes," but had the nerve to say that Donald Trump is not violating its terms of service, even in the wake of his last Tweet about having a "much bigger & more powerful Nuclear Button" than Kim Jong-un. This could be, by far, Trump's most egregious and testosterone-laced Tweet toward North Korea, and it's high time he stops threatening nuclear war. Since most of Congress doesn't seem to have the courage or conviction, perhaps we can at least convince Twitter to do something about this. Tell Twitter: Crack down on @RealDonaldTrump.
As for all of us at Ground Zero Center, we haven't been resting through these turbulent times. Check out what we've been up to in the January 2018 Ground Zero Newsletter that just went to press. While you're there, you can subscribe to our E-Newsletters is you aren't already on the mailing list.
I recently finished reading The Doomsday Machine, and on the last page he quotes Dr. King's prophetic warning (related directly to nuclear weapons) that, "We still have a choice today: nonviolent coexistence or violent co-annihilation." Speaking of Ellsberg, he will appear in Seattle on January 9th to speak about The Doomsday Machine. Tickets are sold out, and I expect that we will have a video to share if you miss it. And here's a special offer to any of your who will be in Seattle that evening and would like to attend, but missed out on tickets. The first person to email me at outreach@gzcenter.org will receive two free tickets to the Ellsberg event. I will email you direct links from which you can print your tickets. I will also announce the lucky winner in our next E-Newsletter.
On Saturday, January 13th Ground Zero Center hosted a vigil at the Bangor Trident base, our way of honoring Martin Luther King Jr's life and works. We will have news and photos from that event available soon.
The monks of the Bainbridge Island Nipponzan Miyohoji Temple are currently on their annual Peace Walk honoring Dr. King from January 10th through the 15th. You are welcome to join any portion of the walk. Click here to see the schedule and find contact information.
And finally, if you're in Seattle on January 15th, join us at the 36th Annual MLK Seattle Celebration at Garfield High School. Ground Zero Center will be in the march, and we welcome you to join us marching, holding banners and signs, and handing out leaflets. This year's theme is Take a Knee for Justice! Click here to learn more.
You can check out all Ground Zero events at our Events calendar at gzcenter.org, and in between E-Newsletters you can keep up with the resistance at our Facebook page. And please share this E-Newsletter with at least two (or more) people who aren't already engaged in the movement to abolish nuclear weapons. This is shaping up to be a watershed year for our work, and we need to build a groundswell of support for abolition. As Dr. King once said:
"We must recognize the fierce urgency of now… Now let us begin. Now let us rededicate ourselves to the long and bitter, but beautiful, struggle for a new world."
On behalf of Ground Zero Center,
Leonard Eiger