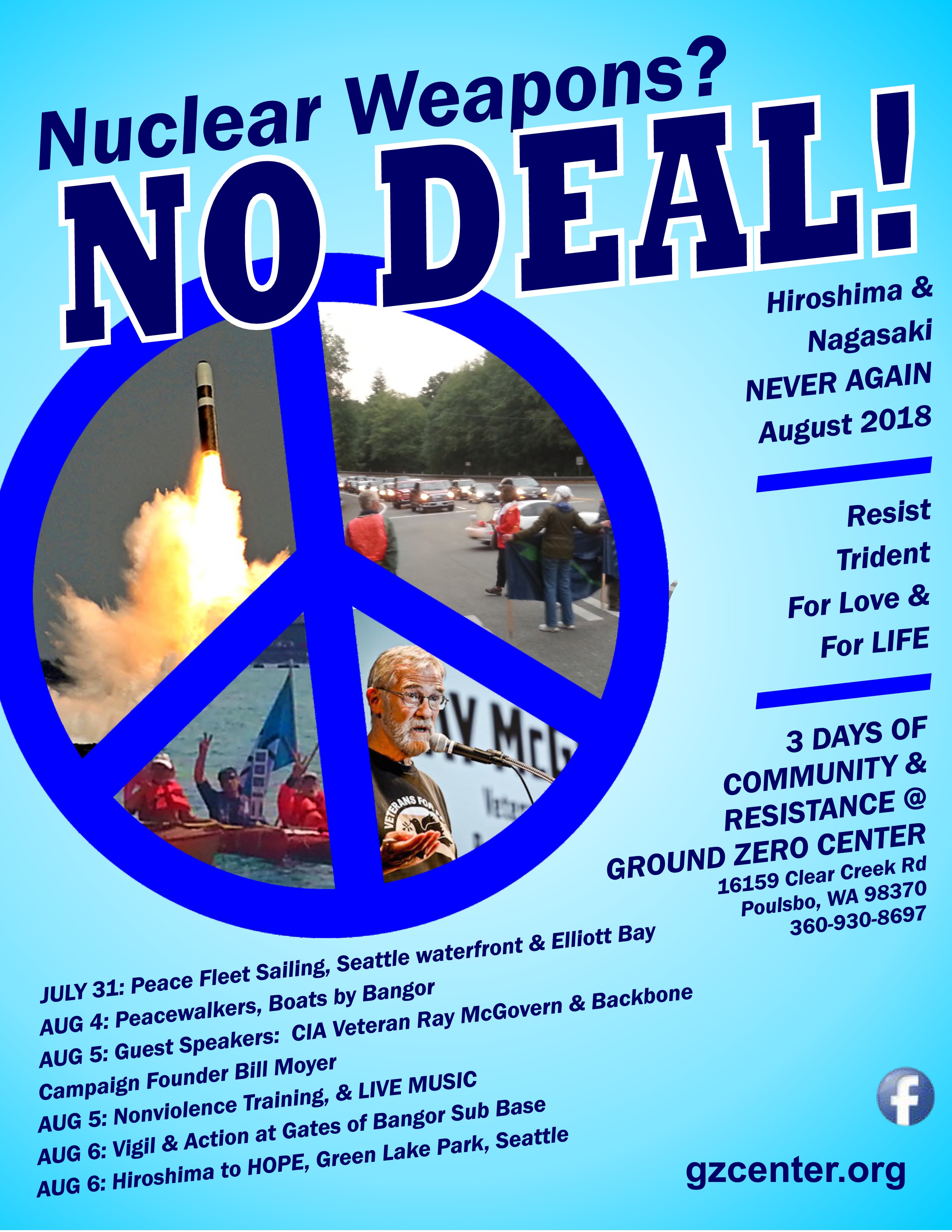 3.  TAKE ACTION! 
July 12th UPDATE: If this is Monday, it must be Helsinki!
President Trump will meet with Russian President Putin on July 16th in Helsinki, Finland. From Pyongyang to Helsinki, it's like "out of the frying pan and into the fire." No matter how you cut it, the most important issue to be addressed between the world's largest nuclear powers (that together control 92 percent of the world's nuclear weapons) is that of stopping the new, and rapidly developing, nuclear arms race and beginning the process of negotiating total elimination of all nuclear weapons worldwide. It is the responsibility of these two nations to set the example and lead the way.
As a starting point, Trump and Putin need to agree to extend New START (Strategic Arms Reduction Treaty) beyond 2021, when it is due to expire. This treaty has made a difference; New START limits the numbers of deployed strategic nuclear weapons on both sides to 1,550. If it is not renewed, the sky is the limit. Fortunately, three very influential Senators, the highest-ranking Democrats on the Senate Foreign Relations, Select Intelligence and Armed Services, introduced a bill to make it U.S. policy to extend the New START Treaty.
Contact YOUR senators and urge them to cosponsor this bill, S. 3169, originally cosponsored by Senators Robert Menendez (NJ), Mark Warner (VA) and Jack Reed (RI). Make this a central part of the Helsinki discussion!
We need to continue our efforts to build peace on the Korean peninsula and in the Middle East, while simultaneously ramping back tensions with Russia and working to de-emphasize nuclear weapons in our government's national security strategy. You will find many opportunities for action below.
Please share these actions with as many people you can; we need a huge groundswell of citizen-based action to be successful in our efforts. Thank you!!!
North Korea
End provocative military exercises with South Korea! (Heck, even Trump called them "provocative," and he's right about that!!!
Congress can turn this moment into a strong and lasting peace. Tell your Senators to support ratification of a U.S. – North Korea peace treaty.
Sign the People's Peace Treaty with North Korea. The Korean War ended in 1953 with an Armistice Agreement. Today, 65 years later, there is still no peace treaty. It is time to declare peace!
Tell Trump and Congress: Pursue humanitarian engagement with North Korea. Addressing humanitarian concerns presents opportunities for the U.S. to build diplomacy and trust with North Korea in the long road toward building peace on the Korean peninsula.
If you're on Twitter, you can help RootsAction out-Twitter the Twitterer in Chief – a brilliant way to make a serious point.
Tell your senators and representative to co-sponsor legislation that would prevent a military strike against North Korea without congressional authorization. These common sense bills, H.R.4837 and S.2016, urgently need more co-sponsors. You can also call on your Senators to co-sponsor S.2047, introduced at the same time as S.2016 (yes, some overlap here, but hey, that's Congress for you).
Urge your members of Congress to call for direct diplomacy (without preconditions) with North Korea, and against further threats of war.
Tell Congress: Demand Trump fill all diplomatic positions to South and North Korea immediately. Trump has not yet appointed an ambassador to South Korea. And just recently, the State Department's senior diplomat in charge of North Korea resigned. There can be no diplomacy without diplomats!
Please join Codepink in thanking South Korean President Moon and the South Korean people for their great accomplishment to bring diplomatic talks between the US and North Korea (that will hopefully continue). Diplomacy is the only way to peace!
Click here to Support the Olympic Truce. From Ancient Greece to today, the Olympic Truce has aimed to ensure safe passage for athletes and spectators during the Olympic Games. As the 2018 Winter Olympics in PyeongChang, South Korea, draw near, we must ensure that peace prevails on the Korean Peninsula. We encourage you to gather with friends over the next couple of weeks and watch the film "Games of Their Lives," about the 1966 North Korean World Cup soccer team and the unifying power of sports. Click here for other things you can do to promote diplomacy and peace during the Olympics.
You can also sign the Athletes for Peace Open Letter to the U.S. Olympic Committee advocating for diplomacy with North Korea.
You can learn more about "How the U.S. can pursue peace with North Korea" at the American Friends Service Committee web site.
Urge your faith community to join Evangelicals for Peace "Call to prayer for peace on the Korean peninsula."
If you live in Washington State, here is a Korea action site focused on the Washington Congressional delegation, courtesy of Washington Physicians for Social Responsibility (WPSR).
Iran
The U.S. Congress has failed to protect the Iran deal. We need to call out our members of Congress for this egregious abdication of their responsibility to the Constitution and the rule of law. We must further call out a president who is putting the people of the U.S., especially the men and women of our armed forces, along with many other nations, at needless risk. And don't get me started on what kind of message this (and further joint military exercises with South Korea) is sending to Kim Jong-un.
Here is Senator Patty Murray's official statement on Trump's withdrawal from the Iran Deal.
Please send a letter to the editor of your local news outlets calling for DIPLOMACY, NOT WAR, with Iran! Friends Committee on National Legislation (FCNL) will guide you through the process. We must do everything we can to stop the drumbeats of war! 
Here are some talking points from the International Campaign to Abolish Nuclear Weapons (ICAN):
By decertifying the Iran deal, President Trump has moved the doomsday clock closer to midnight, and could put us all under greater threat of war and nuclear weapons use.
The remaining signatories – Iran, China, France, Germany, Russia, the United Kingdom, and the EU – should continue to honour and implement the deal. Iran should continue to cooperate with the IAEA to demonstrate the peaceful nature of its nuclear programme.
The only way to stop nuclear proliferation is for the rest of the world to reject nuclear weapons as legitimate and acceptable weapons. All states must build a stronger norm against nuclear weapons through joining the TPNW.
International peace and security cannot be enforced unilaterally. Sustainable peace and security can only be achieved through the cultivation of shared norms and institutions. The United States' increasingly capricious attitude to international agreements undermines the vision of a rules-based international order.
This action could undermine the upcoming meeting with North Korea. It sends a signal that whatever deal you agree to with the US will not be honoured, even if you denuclearise. As this time, supporting the TPNW can create incentives for North Korea to end its nuclear programme.
The United States' unilateral withdrawal could have serious implications for the security situation in the Middle East.
Russia
India-Pakistan
Nuclear Weapons
Militarism
Stop the U.S.-Backed Siege on Hodeidah (YEMEN)! Please call on the US Senate to end U.S. involvement in the war in Yemen, currently the world's worst humanitarian disaster!
The United States buys weapons, markets weapons to other governments, donates weapons to other governments, and gives tax breaks to weapons dealers! And then, public pension and retirement funds invest, directly and indirectly, in weapons companies. Teachers and other public servants whose interests ought to lie with promoting human needs have their retirement security tied up with maintaining or enlarging the war industry. It is immoral to invest money (that is for people's future security) in profiting from wars, current and future, that threaten everyone's security. Please sign the petition to government controllers of public investments asking them to divest from weapons dealers.
Right now there's a dangerous bill moving through the Senate that would give the President unchecked power for even more wars. The Corker-Kaine bill would give sweeping authorization for the President to go to war around the world with no Congressional oversight. It allows decisions about war to be made in secret. It also flips the power to declare war on its head and forces a supermajority veto to overrule the President. We need to stop this! Please sign the petition to the Senate Foreign Relations Committee that we need an AUMF that stops war, not one that rubberstamps Trump's belligerent policies.
Send a Thank You to Google employees (and all workers) who reject the "business" of war! Recently, Google employees protested – and some even resigned over – the company's "involvement in a Pentagon program that uses artificial intelligence to interpret video imagery and could be used to improve the targeting of drone strikes." War business is BIG business!!!
Donald Trump illegally bombed Syria, can't wait to scrap the Iran deal, and is building more "usable" nukes. And he is literally building a war cabinet. Congress must take urgent steps to restrict the president's war-making ability. Sens. Bob Corker and Tim Kaine's proposed new Authorization for the Use of Military Force, or AUMF, would give Trump a blank check for worldwide, endless war. Tell Congress "DON'T GIVE TRUMP A BLANK CHECK FOR ENDLESS WAR."
Take the pledge to Divest from the War Machine! Ground Zero Center for Nonviolent Action is a coalition partner in this campaign to "dismantle the war economy and demand that our nation upholds the rights of every human being to live in freedom and dignity, safe and free from poverty, danger, and despair, both at home and abroad."
The Poor People's Campaign: A National Call for Moral Revival is uniting tens of thousands of people across the country to challenge the evils of systemic racism, poverty, the war economy, ecological devastation and the nation's distorted morality. Add your name and get involved if you're ready to join the movement to transform the political, economic and moral structures of our country. We need to finish what Dr. King began.
Call on your candidates for the 2018 city, state and federal elections to endorse the Peace Legislators Pledge, which commits candidates to support the peaceful resolution of international conflicts and the abolition of all weapons of mass destruction.
Our efforts do make a difference! Both Washington Senators Maria Cantwell and Patty Murray recently signed on to to the Markey-Feinstein letter on the Nuclear Posture Review thanks to the many constituents who called their offices. Click here to read the letter.
BROKEN LINKS??? – If you experience a broken link, please email me (Leonard Eiger) at outreach@gzcenter.org and let me know which one it is. I want to be sure everything is working for you.
5.  Write op-eds and letters to the media and friends.
6.  Join nuclear resistance groups.
Ground Zero Center for Nonviolent Action
Washington Coalition Against Nuclear Weapons, a coalition of organizations in Washington State, working to abolish nuclear weapons through education, grassroots action, coalition-building, and direct advocacy
Command and Control